It was another crazy weather week.. Freezing temps one day, 60's the next.
I have been working on getting the little ones readjusted to routine. While I understand and appreciate the complete free range parenting ideas, I still find myself making sure my house is run a certain way. I have also been trying to find ways to organize my head again. It was something I use to master, but recently I am lucky if I can get 3 meals done on time. I feel like I am in a tailspin. Hopefully it will all end soon.
We are working on picking up after ourselves... everyone..
We have been growing scallions on the window sill and sprouted garlic last week
I am going to post personal interviews with each child. If you want more info, see this post here
What We Are Learning About
We have done very little by way of reading, but we have had lots of hands on learning. On Tuesday, Olivia made pancakes almost by herself ( I helped with the mix). Abigail and Quinten have been working on baking.. Abigail even tried her own cookie recipe (see heart cookie).
Tuesday the girls found a paper doll book, and we cut out some paper dolls. The boys became intrigued and we cut some out too. There were men, women and children in the book, so they all had a blast.
Our Adventures
I worked on Thursday. I am hoping to get more days in next week. One day just doesn't cut it. You can see my grooming blog
here
. There were no church activities this Wednesday, so everyone stayed home. Jacob went to a church dance Saturday evening. He looked so handsome. I can't believe he is 14. He asked a girl to dance and he said one girl asked him to dance.
.
On Our Bookshelf
We borrow a lot of books from the library. The children pick out their own books, and I grab some that I feel they need for school.
The Older's Books
The Schooling Books
Living in Ancient Egypt
Cultural Atlas of Mesopotamia
Baking Basics and Beyond
Almost from Scratch
Liberty Defined
Brain Surgery for Beginners: And other major operations for minors
Horse
Insects of North America
The encyclopedia of world history : ancient, medieval, and modern, chronologically arranged
The Usborne Internet-linked encyclopedia of world history
The joy of chickens
Mom's Books
National Geographic guide to medicinal herbs : the world's most effective healing plants
What We Are Watching

Streaming
Curious George... all.. the.. time.. Ezra loves to grab my phone and watch it.
Man vs Wild.. Bear Grills is crazy.. This is why I don't desire to travel..
Myth Busters.... always fun, we need to emphasize "do not try this at home
Abigail and Isaac have been using
Book Adventure
to quiz on the books they read. Check it out!
Additional Photos of Our Week
Ezra got something in his foot, and we were soaking it, Lucas wanted a turn.
We put chickweed salve on it and it is healing nicely
sunset
sunrise
He gave up... for now.
Abigail helped him build a pretzel house
Abigail set out Saturday afternoon, camera in hand, these are some of her photos
Linking up with these Blog Hops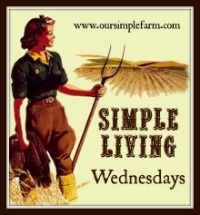 (I am looking for more blog hops, do you have one to share? )